Bespoke groom mens wedding suits from Manchester City Centre tailors.
Manchester's finest and longest serving bespoke mens tailors

At James Personal Tailor & Son we pride ourselves on hand crafting the most beautiful bespoke groom suits for that special occasion for grooms and wedding attire gentleman
With over 40 years of experience, James has hand crafted the most stunning mens bespoke wedding attire for gentleman grooms bespoke suits and shirts

Suits Groom Suits wedding suits manchester
James & Michael will work with you on a personal one to one basis to create the garment you desire manchester
With a vast selection of cloths and contrasting satin linings we are sure to find a special combination to make that perfect individual groom's suit for your wedding day.Wedding suits from the Northwest's finest suit tailors
Master Freddie Marshall in his 2 piece bespoke suit at the fitting stage
Bespoke suit fitting at the canvas stage.
Bespoke jacket fitting at the canvas stage.
Every suit can be personalised by having your own unique message inside of the lining, be it for a wedding with your names and date of the special day, or anything you wish to be placed there, be as individual as you feel.
Model's are all wearing cloth by Scabal
Please note, we are one of only a few bespoke tailors that actually have a customer gallery on their website. We feel that this is a more honest approach than purely using model pictures. As this highlights that we make the highest quality hand made bespoke suits for individuals of different shapes and sizes and not just models who are one size.
Bespoke 2 piece suit in Super 160's fine wool
2 piece bespoke wedding suit in Super 160's fine wool with hand made shirt in 100% Sea island cotton
Bespoke 2 piece suit made with Scabal cloth
Ladies Bespoke 2 piece suit in cashmere and wool blend

James With Paul and Arron Scholes
Michael With 'Busby Babe' Albert Scanlon
James and Michael With Lionel Ritchie
Click the above picture for a link to the Manchester Evening News article
James, Elaine and Michael with Peter Kay
Please view the below video about the story of how James became George Best's last tailor
George Best's Last Tailor from MON CHÉRRY on Vimeo.
James Personal Tailor & Son, since 1973: Manchester's longest established men's bespoke tailors.

James Pendlebury had the honour of not only being the tailor to, but a very good friend of the late and great George Best. Here, he reflects on what it is like to have made the late Manchester United icon's last suit, and on the friendship that they shared.

James Personal Tailor are gentlemens personal bespoke tailors of distinction, offering traditional tailoring with either a contemporary or classic English cut, fully hand crafted and made to your unique measurements.

www.jamespersonaltailor.co.uk

-------

Video by MON CHÉRRY
Tami Doncic and Jamie Haigherty

http://moncherry.co
Bespoke morning coat style weding suit
Rear view of a bespoke waistcoat
Bespoke 3 piece wedding suit made with cashmere
Bespoke suit with hand made ruched tie & handkerchief
Bespoke 3 piece country wool tweed suit, with green velvet back collar and pocket detail
Close up pictures of suit details
............
..........
Bespoke waist coat and trousers
Bespoke mid grey suit, made using Scabal Mohair
Bespoke 3 piece suit in an English wool worsted cloth
Rear view of waistcoat
1960's Mod inspired bespoke suit, 8 button front with high cut lapel line, made from Scabal mohair
....
....
Fitting stage ................................Close up picture of fitting........... The finished bespoke suit
James with long time customer and friend Professor Max Elstein, the bespoke jacket he is wearing is just over 25 years old, James made this for him back in 1985. It is still in perfect condition and wearing well. Pictured right is our vintage suit label from when the suit was made.
Velvet bespoke suit with dark navy silk lapel
Mr Ginders in his double breasted bespoke suit. 2nd picture, close up of the grey horn buttons.
Black bespoke suit, made using super fine wool
Bespoke 3 piece suit made using cashmere and wool
Country Tweed 3 Piece suit
Country Tweed 3 Piece bespoke suit
2 piece bespoke suit in Super 120's pure wool with Satin lining
2 piece bespoke wedding suit in Merino wool
3 piece bespoke suit in cashmere and wool blend
Father & son bespoke suits
Robert Oakes in his one off design bespoke waist coat, perfect complement to a pair of smart denim
Unique bespoke design, using 2 seperate pieces of suit material. Grey mohair for the body and super fine light weight wool with check design for lapels and pockets.

Fitting stage of a bespoke jacket in merino wool
2 piece bespoke suit from the Scabal Lifestyle range
2 piece ladies bespoke suit in Merino wool
Bespoke suit 3 piece, with purple lapel hold detail
2 piece bespoke wool wedding suit with 100% Sea Island cotton hand made shirt
Bespoke wedding suit in wool cashmere
2 piece bespoke suit in 1960's Mod style using Dormeuil mohair and wool blend
3 piece bespoke wedding suit from the Scabal Lifestyle Range

2 piece bespoke wedding suit with frock coat style jacket

Mr Geoff Senior with James collecting his new navy blue bespoke suit and choosing another suit material for his next bespoke suit. This material is extremley rare and is a made from a blend of super fine 150's wool with summer kid mohair and vicuna.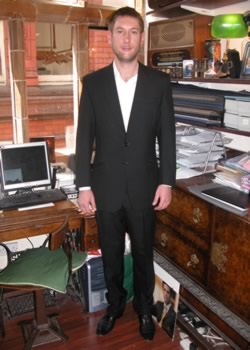 Contemporary tailored cut into the waist line
Bespoke suit made with Scabal Silk 'Sleek' cloth range. Contemporary lapel hole and cuff hole
Mr Kash in his new mohair and silk bespoke 3 piece suit
Bespoke silk and wool suit made using Scabal Festival cloth range
Mr Geoff Senior collecting his new bespoke cashmere overcoat and mohair and vicuna suit
James Personal Tailor & Son
'The Home Of Bespoke Tailoring'